Roasted Artichokes with Quick Garlic Aioli
Prep Time: 10 mins
Total Time: 50 mins
Meal Type: Lunch, Dinner
Servings: 4
If eating healthy is top of mind, it may be hard to come up with appetizer ideas when entertaining guests. Since artichokes are an excellent source of fiber, and are rich in antioxidants and nutrients but low in calories, they make perfectly nutritious finger food. Try Roasted Artichokes with Quick Garlic Aioli at your next gathering for an appetizer that is sure to please!
Ingredients
1 1/2 lb artichokes, frozen, defrosted
2 tbsp olive oil
1 tsp thyme, dried
1/4 cup avocado oil, mayonnaise (or other)
1 clove garlic, pressed
1 lemon, zested and juiced
salt, to taste
pepper, to taste
Directions
Prep
1. Defrost artichokes, drain, and dry.
2. Press garlic, zest, and juice lemon.
3. Preheat oven to 425° F and line the baking sheet with parchment paper.
Make
1. Toss artichokes with olive oil and thyme.
2. Season with salt and pepper to taste then spread evenly [in one layer] on a parchment-lined baking sheet
3. Roast for about 40 minutes, turning halfway through cooking to ensure all edges are browned.
4. Meanwhile, whisk together mayonnaise, and garlic, 1 tsp. lemon zest, and 1 tsp. lemon juice. Season with salt and pepper to taste.
5. Serve warm artichokes with aioli on the side for dipping.
Source: Nutrient data for this listing was provided by USDA Food Composition Database
Nutrition information for recipes is calculated by retrieving and compiling individual food data from the USDA database. Factors such as brand selection, size of produce, and preparation can change nutrition information in any recipe. We offer this information as an estimate only.
Nutrition Facts/Amount per Serving/% Daily Value
Calories per serving: 202
Vitamin D: 0mcg: 0%
Calcium: 6mg: 0%
Iron: 0mg: 2%
Potassium: 6mg: 0%
Total Fat: 17.8g: 27%
Saturated Fat: 1.9g: 9%
Trans Fat: 0.0g
Cholesterol: 15mg: 5%
Sodium: 185mg: 8%
Total Carbohydrates: 11g: 3%
Dietary Fiber: 8g: 32%
Total Sugars: 0g
Protein: 4g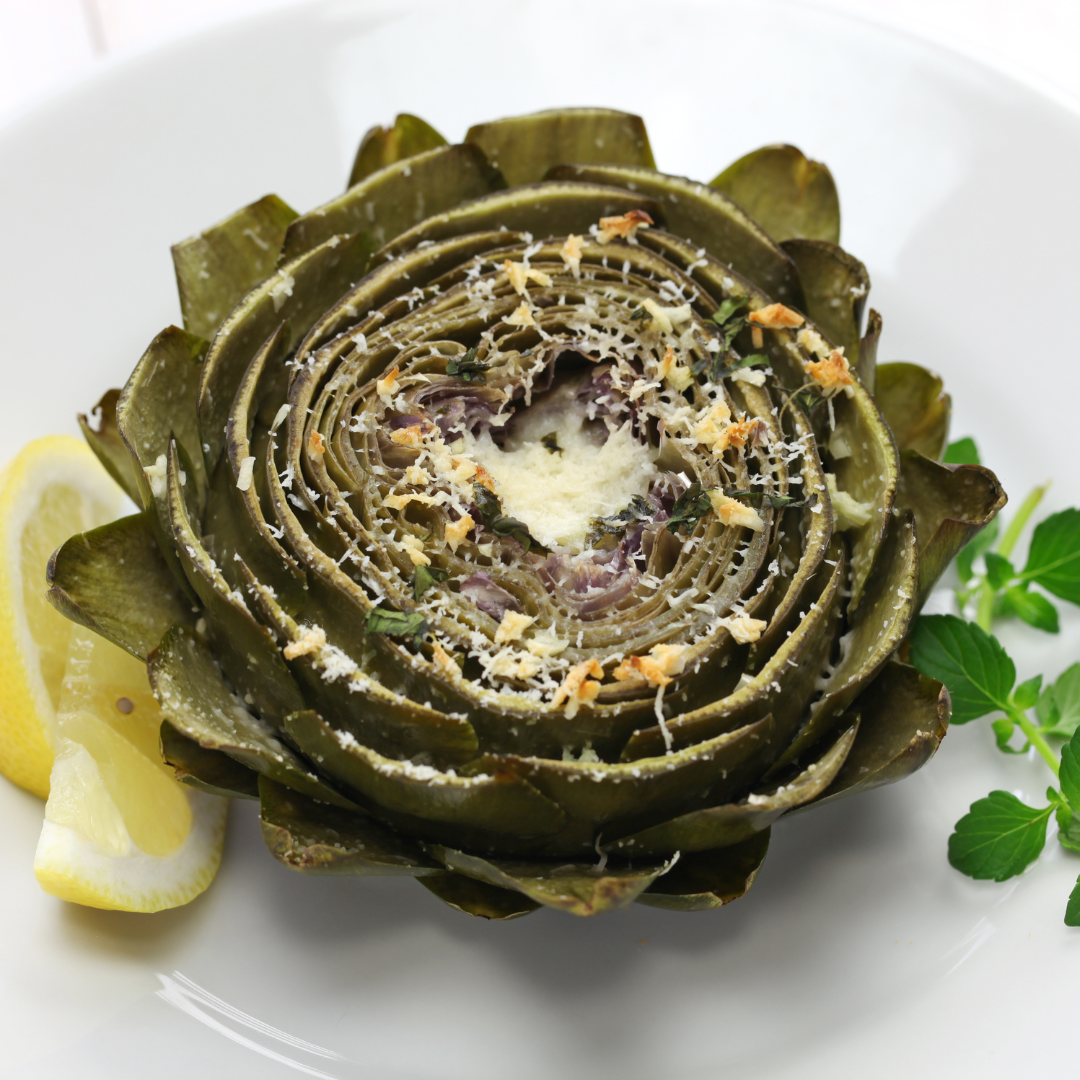 For more healthy recipes, specific dietary needs, or personalized meal plans, contact Julia at 704-577-8066